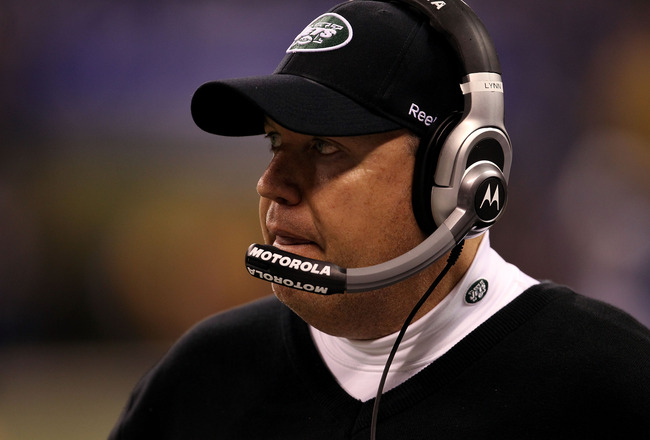 The New York Jets have played in the conference championship in back-to-back years. They also lost both games and played those two games on the road.
Rex Ryan and the Jets have made it a goal to win the AFC East this year so they have a home playoff game.
However, it won't be easy.
Tom Brady and the New England Patriots stand in their way and don't look like they're ready to relinquish their throne. The Patriots have spent the offseason adding veterans like Chad Ochocinco, Albert Haynesworth and Shaun Ellis.
The Jets haven't had a quiet offseason, either, but most of their efforts were spent re-signing their own and letting go of older veterans. While the Jets probably aren't better on paper than last year, that doesn't mean they don't have a shot to dethrone the Patriots.
These five reasons will help propel the Jets to win the AFC East crown.
1. Improvement of Mark Sanchez
Entering his third year in the league, Mark Sanchez is no stranger to the spotlight. The former Trojan has arguably been the most scrutinized QB the last two years.
Deserving or not, the burden falls on Sanchez this year.
We saw a marked improvement from Sanchez between his rookie and sophomore seasons. He improved his touchdown mark by five, cut his interceptions by seven and threw for over 40 more yards per game.
Now in his third year, he has to take another step and grow as a quarterback. He has shown at times, particularly in the playoffs, that he can be a good quarterback, but he has yet to put it together a full 16-game season.
He has the weapons around him to succeed. Now he has to go out there and do it.
The Jets will go as far as the right arm of Sanchez carries them.
2. The Return of Revis Island
At this time last year, Darrelle Revis was in hiding as he held out for a new contact. When he finally ended his holdout, it left him out of football shape and he ended up hurting himself in Week 2.
He was not the same player until later in the season, when he returned to engulfing wide receivers on a weekly basis.
What a difference a year makes.
This year, Revis is in training camp with the Jets from the start. Good thing, because the Jets will need him in the season opener to shut down Miles Austin.