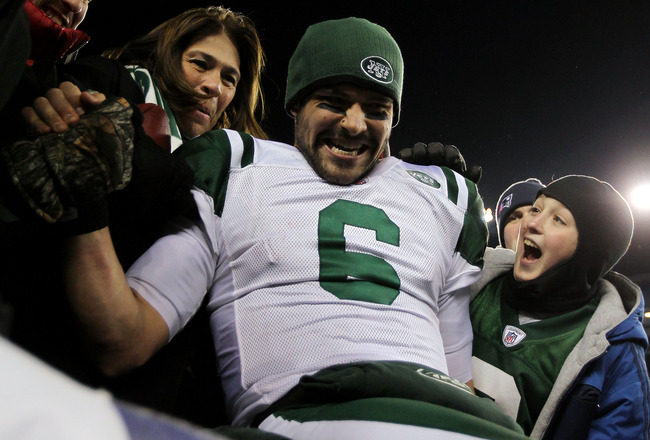 Rex Ryan caused a stir when he said last week that Mark Sanchez was an elite quarterback.
Naturally, that didn't go over well with many who pointed out the flaws in Sanchez's game.
Ryan acknowledged his stats aren't pretty, but said he wasn't worried about them. All he cares about is winning and Sanchez has won big games and that is what makes him an elite quarterback.
So is he an elite quarterback or not?
Let's examine further before making a decision.
Arm Strength
When you talk about arm strength and quarterbacks, it's not all about whether or no the guy can sling it 60 yards downfield. It's about being able to make every throw in the playbook, especially in tight spaces. JaMarcus Russell had tremendous arm strength, but he couldn't hit that deep out route.
Sanchez has a nice arm and can make all the throws necessary. The Jets typically don't throw deep often, but Sanchez can sling it downfield as well.
Accuracy
One of the biggest holes in Sanchez's game is his accuracy. He can go through streaks when he has pinpoint accuracy, then follows that up by missing open receivers.
His completion percentage was a measly 53.8 percent in his rookie year and he only raised it one point, and the only guys your star quarterback ranks ahead of are Jimmy Claussen and Derek Anderson.
Sanchez will probably never be as accurate as guys like Brees and Manning, but with improvement he can work his way up to 60 percent.
Decision Making
Even more so than accuracy, decision making has been the biggest problem for Sanchez. He threw 20 interceptions his rookie season including four games with at least three picks. He cut the number down to 13 last season, but threw at least one pick in nine of his last ten games.
He also led the league in dropped interceptions (15) by a wide margin.
He is capable of making good decisions, he just seems to get in funks where his decision making skills completely evade him. The Jets have made their offense more conservative to aid him, but entering year three it's time to let the reigns go. It's up to Sanchez now to be more conscious with the ball.
Big Game Performance
This is why Ryan considers Sanchez an elite quarterback.
In only two seasons, Sanchez has played in six playoff games. In those six games he has a passer rating of over 94, compared to his career regular season rating of just over 70. He has thrown nine touchdowns to only three interceptions and all of these games have come on the road. Most importantly, he has a 4-2 record in these games.
If you compare his numbers to another quarterback in a similar situation (young and playing on the road), Joe Flacco, Sanchez wins easily and most people would consider Flacco a better quarterback.
So why hasn't his playoff performance carried over to the regular season? That's the million dollar question and he'll have a chance to answer that this season with his play.
Leadership
You want your quarterback to be a leader. Some guys have the talent to be elite, but the leadership and work ethic aren't there (see Vince Young, Matt Leinart).
You don't have to question Sanchez's leadership ability. He puts in the work on and off the field trying to bet better. In the offseason, he organized "Jets West" pseudo mini camp for the second year in a row. They didn't just run routes on the practice field. Sanchez held film sessions and made playbooks.
That's why it was no surprise he was named a team captain in only his third season. Not every quarterback wants to be leader, luckily for the Jets, Sanchez embraces the role.
Verdict