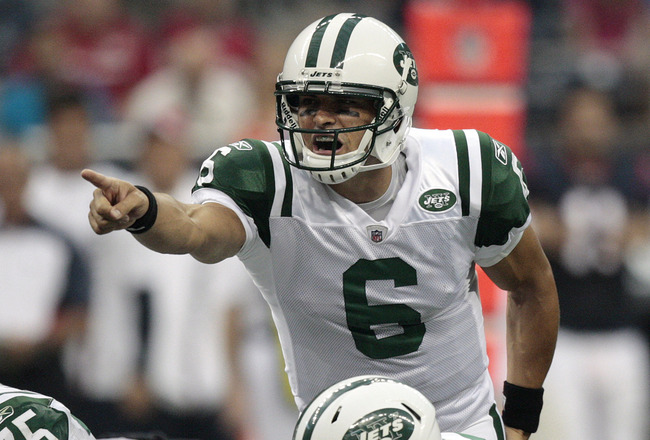 The New York Jets lost their preseason opener to the Houston Texans 20-16 on Monday night.
The starters played one quarter and exited with a 3-0 lead. Now as with any preseason game, don't try to look too deep into the game.
Preseason games are ultimately meaningless and the primary goal is to come out with no significant injuries.
Having said that, here are a few things I picked up on while watching the game. (Sorry it's a little late).
1. Mark Sanchez Looked Sharp

Quarterback and newly appointed captain Mark Sanchez looked sharp in his lone quarter of play, completing six of seven passes for 43 yards.
Sanchez's only incompletion was a drop by a backup tight end. The Jets took a conservative approach and Sanchez didn't throw deep, but he looked in rhythm with Santonio Holmes and Derrick Mason. However, it would have been nice to see him target Dustin Keller.
It's a good starting point for what is a huge season in Sanchez's career.
2. O-Line Depth is Thin
The Jets were without starters Nick Mangold and Brandon Moore last night and it showed.
Vladimir Ducasse started on the right side and was getting beat routinely. It's still too early to call the second year man a bust, but he isn't ready to play right now.
Robert Turner started for Mangold and suffered a broken leg and is now out eight to ten weeks. It might be time for the Jets to give Damien Woody a call or bring in a veteran free-agent.
3. Red-Zone Struggles Continue
Last season the Jets scored just 20 touchdowns on 50 attempts in the red zone, good for a 40 percent success rate. They ranked 28th in red-zone completion (49.3) and were tied for 30th in yards per attempt (2.7).
The starters made it into the red zone on their first drive before it stalled at the 15-yard line. I wouldn't worry too much though. Plaxico Burress, thought to be a big factor in the red zone, was sidelined with an injury and the Jets were down two starters on the offensive line.
If this continues in the preseason though, it would be a big concern.
4. Battle for the 3rd RB Spot
There aren't many position battles in Jets camp, but one to watch is the battle for the third running back spot between Joe McKnight and Bilal Powell.
Both backs were selected in the fourth round, Powell this year and McKnight last year. McKnight had a forgettable rookie season and will be challenged by Powell.
They both had their moments last night, but the winner might ultimately come down to who can contribute on special teams.
5. Rookies Impressed
While the preseason may be irrelevant for most veterans, it is a valuable time for rookies seeing their first NFL action.
For the Jets, the most impressive rookie was nose tackle Kenrick Ellis. It would be nice to see him get some playing time against the first-stringers next week.
Muhammad Wilkerson didn't stand out, but held his own playing with the starters. Also, Jeremy Kerley impressed on kickoff returns averaging 32 yards per return.