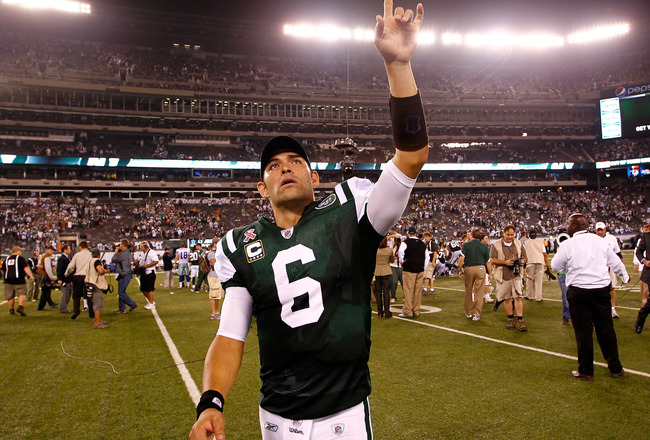 While the stats show Mark Sanchez had a pretty good game in Week 1 (335 yards, two TDs, 88.7 passer rating), there is still plenty that the third-year quarterback needs to improve.
Sanchez turned the ball over twice, throwing one interception and losing one fumble. Even worse, both of the turnovers came in New York Jets territory.
He was inconsistent the entire night. At times he looked like a veteran quarterback, but he also looked like he was a rookie again at certain points.
The Jets might be 1-0, but Sanchez still has plenty to work on before he takes that next step as a quarterback. Here are five things he must improve on after his Week 1 performance.
1. Protect the Football
Turning the football over has plagued Mark Sanchez over his short two-year career, and it nearly cost the New York Jets a win on Sunday night.
Sanchez's near pick-six as the third quarter came to a close put the Jets in a deep 10-point hole to start the fourth quarter. If not for some blunders by Tony Romo, Sanchez would be getting grilled by the media for his mistakes.
Then just as the Jets entered enemy territory, driving to tie the game, Sanchez turned it over again as he was stripped of the ball while being sacked.
Luckily, the Jets overcame those turnovers and won anyway, but Sanchez is not putting the Jets in a position to win by turning the ball over multiple times in Jets' territory.
2. Know when to throw it away
Mark Sanchez's second turnover of the night came on a play when he saw nothing open, and so he moved in the pocket hoping to find an open receiver. Before he could release the ball, a Dallas Cowboys defender sacked Sanchez, stripping him of the ball in the process.
Now, this turnover could have been avoided if Sanchez would have just thrown the ball away once he saw no one was open. This is far from the first time this has happened to Sanchez.
I will give him a break though. The Jets were down a touchdown, and he was trying to make something happen. If he were able to avoid the defender and find a receiver for a 20-yard gain, we would all be praising him.
So while I'll give him a free pass on this one, it is something he needs to improve upon, especially when he feels the pass-rush closing in on him.
3. Be More Consistent
On Sunday night, we saw both the good Mark Sanchez and the bad Mark Sanchez.
For most of the first half, Sanchez looked rather pedestrian failing to move the offense down the field. Then once the Jets were in their two-minute offense, Sanchez looked like a veteran leading his team to a touchdown before the half ended.
In the second half, we saw both sides of Sanchez again. He marched the team 84 yards into the end zone in less than three minutes, including a beautiful back shoulder throw to Plaxico Burress for a touchdown.
We also saw Sanchez turn the ball over two times and struggle to move the ball in the Jets final two possessions with a chance to win.
At times, Sanchez can be a great quarterback. He just needs to show that on a more consistent basis.
4. Throw the Ball Downfield More
Mark Sanchez threw for 335 yards against the Dallas Cowboys on Sunday night, one yard shy of his career high. However, one thing Sanchez and the New York Jets didn't do was throw the ball long.
He had only two completions that went for over 30 yards, and one of them was a halfback screen play. With the Cowboys secondary as banged up as it was, you would have though the Jets would have taken a couple of shots downfield.
You would expect them to especially when you have a guy like Santonio Holmes, who can blow by almost any cornerback in the league. Perhaps, we'll see Sanchez throw it deep more in the coming weeks.
5. Getting Off to a Better Start
The New York Jets have made it a habit of starting off slow, and that was the case again on Sunday night. For 16 games in a row, the Jets have failed to score a touchdown in the first quarter.
It wasn't until their final drive of the first half that Mark Sanchez completed a pass of over 10 yards. Most of the blame can be put on the offensive line as they didn't give Sanchez much time to throw or open up any running lanes.
Simply put, Sanchez needs to play better in the beginning of games. The Jets won't be able to play catch up every game, and this will come back to bite them them sooner or later.