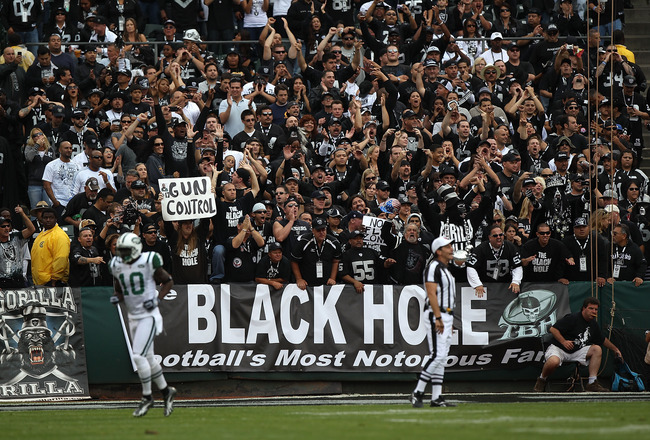 The New York Jets blew a 17-7 lead against the Oakland Raiders and ended up losing 34-24, dropping to 2-1 on the season. The loss has sent many Jets supporters into panic mode.
The Jets have a brutal stretch coming up with back-to-back road games against the Baltimore Ravens and New England Patriots and then a game against the division rival Miami Dolphins followed by the San Diego Chargers.
The thought of being 3-5 after this stretch is terrifying, and the Jets have some work to do if they want to make it through this patch still on track for the playoffs.
With that in mind, here are five improvements the Jets need to make.
1. Protect Mark Sanchez
The pass protection has been a huge liability so far in this young season. Sanchez has been on the ground way too many times for comfort.
After Week 1, Sanchez was feeling woozy and took a concussion test, and then after this past week's game, it was revealed he has a partially broken nose.
If this continues, sooner or later Sanchez will pay a heavy price. And if he gets injured for any significant portion of time, the season is over unless Mark Brunell has magical powers and can turn the clock back 10 years.
2. Get Plaxico Burress Involved Early
Plaxico Burress has made his impact felt with the New York Jets racking up seven catches for 127 yards and two touchdowns in his first three games with the team.
Look closer at those numbers and they tell a different story. All but one of his catches have come in the fourth quarter. In both of those games, the Jets were playing catch up in the fourth quarter and passing the ball exclusively.
Burress has shown he can be dangerous, so why not target him earlier in the game? Get him involved early and have his touchdown give the Jets the lead, not inch them closer to a comeback.
3. Fix the Running Game 
In Rex Ryan's first two season's with the New York Jets, they were what he called a "ground and pound" team as they led the league in rushing over those two years. If the team's first three games are any indication, that is no longer the case.
The Jets had their best day on the ground against the Oakland Raiders, but that wasn't really saying much. Shonn Greene failed to average four yards for the third time this season, and there were too many times where the Jets were stuffed at the line of scrimmage.
It's time to make some adjustments. LaDainian Tomlinson is proving once again he's a better option than Greene and not just in the receiving game. It is also time to give Joe McKnight and Bilal Powell a few carries and see what both of them can do.
4. The Defense Must Live Up to Its Name

In addition to ground and pound, Rex Ryan also prides his teams on their defense. The supposedly vaunted New York Jets defense was a shell of its former self against the Oakland Raiders and hasn't been as sharp in other games.
The Jets failed to wrap up on Darren McFadden and he made them pay in a big way ripping off big chunks of yards, including a 70-yard touchdown run that completely changed the game. Through three games the Jets ranked second-to-last defending the run.
Another thing the Jets failed to do was get any sort of consistent pass rush. They only sacked Jason Campbell once all game. It was a major disappointment as they faced one of the worst offensive lines in the game.
5. Mark Sanchez Needs to Be Consistent
I feel like we discuss this every week, but it's continually a problem. The New York Jets went nearly 30 minutes without scoring any points. During the time span, the Oakland Raiders scored 24 points and went from being down 17-7 to having a 31-17 lead.
The offense only picked it up once they were in hurry-up mode and the Raiders were playing more relaxed coverage on defense and for the third straight game, Mark Sanchez turned the ball over. He only threw one interception, but it was pivotal in this game as it came near the goal-line and the Raiders didn't commit any turnovers.
I don't want to pick on Sanchez too much though. He deserves more credit than he is getting. He has thrown for over 300 yards in two of the three games and is completing over 63 percent of his passes, which is an enormous improvement over his first two seasons. He has done this with barely any running game to speak of and a spotty offensive line.
He does have room for improvement, but this loss wasn't on his shoulders.